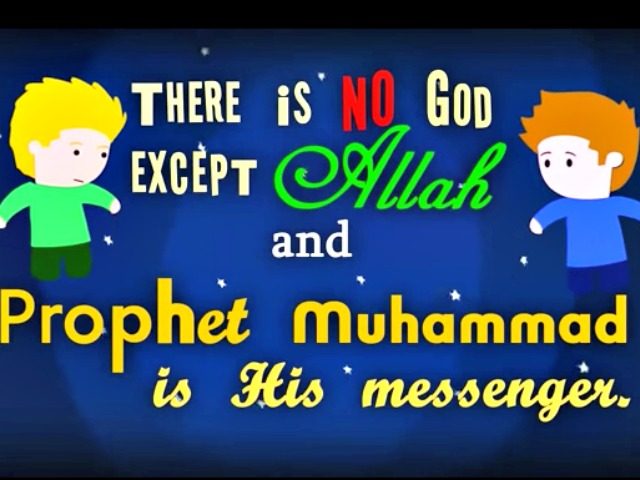 "Two mothers of seventh graders who attend Chatham Middle School in New Jersey have hired the Thomas More Law Center, a public interest law firm, after their legitimate objections to pro-Islamic curriculum in their children's classes have resulted in personal and social media attacks upon them within their community. "Their crime: appearing on Fox TV's Tucker Carlson Show to voice concerns about Islamic indoctrination of Chatham Middle School seventh graders," the Thomas More Law Center said in a press release on Thursday." –Source
This ministry, and I am sure others as well, have been preaching for literally decades that the Vatican not only wrote the Koran and are using the Muslim people that are openly loyal to the Vatican to kill Christians just as they used Hitler to kill Christians and Jews during World War II. And we have also been trying to warn people for just as long that Shariah law will eventually become the law of the land world wide in bold fashion as well as in a smaller less noticeable but effective fashion in the West.
As I have shared long ago, there are over 30,000 guillotines on American soil hidden away in storage awaiting the day the man of sin in Rome is openly commanded by Satan masquerading as Messiah to kill the Sabbath keepers who they blame are the reasons for the "climate change" issues that have brought on the many disasters. And now that the powers that be have dug in their heals to promote Islam for the Pope, they have focused on our precious children in the Government School system and ALL "private schools" that receive federal funding. (in other words, all schools now)
As expected, and not for lack of warning, it won't be too long before Christian persecution escalates in America now that they are pushing Islam in our schools. And yes, the Vatican was the first one to do this back in October of 2009. In fact, if you go to my "HomeSchool Spurs" page and hit "F3" and then type in "Islam" you will find 149 articles (as of 03-31/17) that deal directly with Islamic influence and indoctrination in the American School system. This has been going on for years and most parents have been looking the other way because having your child in school is easier and much cheaper than homeschooling their child!
That all being said. One can only hope that those that laughed out loud when I first spoke out on Islam coming to the Schools so as to create an indoctrinated (brainwashed) population that (as they did with homosexuality) will see nothing wrong with buddying up with people that hate and even torture and kill Christians all over the world; but what amazed me is how the laughing continued even years later when the Pope announced his schools would teach Islam. And the laughing continues even now after decades of watching how Christianity became illegal in the American school system but teaching about Allah, his so called prophet Mohammed, (who never prophesied) and the five "religious pillars" of Islam is 100% legal? That right there tells you the second beast of Revelation (The USA) is working hand in hand with the first beast (the Vatican) just as prophecy predicted to make sure they have the means by which to enforce the mark of the beast. And just like they did with Hitler, they are using our own children against us! And as soon as those children graduate with a pro-Islam mindset ready to cast their votes, the real Christians will become third class citizens slated for extermination.
For the scoffer.. It was prophesied there would be an "end of days." And in that troublesome time it was also prophesied many scoffers would try and belittle the signs of the times. But since all the prophecies have been confirmed fulfilled, with only the visible arrival of THE Antichrist and his command to enforce the mark of the beast being left before the plagues hit; you need to wake up and realize that sooner or later the end had to come. What you may be a bit shocked about and so have decided to stand in denial of it all is that you were actually born into the last days and that being the case you might just see the end of all things with your own eyes. The end had to come eventually, it's just that all the signs around you make you very fearful that it might be happening right now and for most scoffers they don't want to accept that. But there is a way to have perfect peace and actual joy deep within knowing all this. But only if you accept Jesus as Lord. And how do you do that? Click here.
It may seem impossible in your mind to find peace in a such a crazy world as this. But literally billions throughout the last 2000 years have declared openly, and the hundreds of millions that were martyred under the Vatican inquisition, (which was also prophesied) lovingly declared even as they were dying with joy in their eyes and perfect peace in their hearts that Jesus is Lord and His promise of peace is just as absolute as every one of those prophecies that have been fulfilled. The fact those prophecies have been documented and confirmed with 100% accuracy shows the Bible is truth. And if the prophecies are true so are the promises!
Additional Articles Confirming we are in the Last Days:
Air Force punishes Christian even though probe cleared him * Jesuit owned and operated Georgetown University hosts known Islamic Terror financiers * VIDEO: Is this "TSA pat down" child molestation? * California Just Criminalized Undercover Reporting — if Recorded by Conservative Media * California charges 15 journalists with FELONIES for sharing TRUTH (in video) about Planned Parenthood! * Five-Year-Old Girl Suspended After Making 'Shooting Motion' with Stick Shaped Like Gun * AUDIO: Thomas Hodgson: Arrest Officials from Sanctuary Cities; 'This Is All About Following Our Laws' * VIDEO: Capitol Hill: Shots Fired Outside Rayburn Building * Migrant Charged With Rape of Minors 'Deliberately Exposed' Victims in Sweden to HIV * Jerry Brown Calls for 'Countermovement' Against Trump on Climate Change * VIDEO: North Korea Conducts Third Ballistic Missile Engine Test * VIDEO: Video: Islamic State 'Cubs' Kill Prisoners in Mock Combat Drill * Raiders to Get a Sports-Themed Brothel In Las Vegas * FYI: VIDEO: IRS phone scammers are getting more sophisticated * ASU Student Receiving Death Threats for FB Post * Tennessee Couple Allegedly Tried to Sell 5-Month-Old Son for $3,000 on Craigslist * BUSTED! VIDEO: Woman appears "live" on CNN and MSNBC at the same time * VIDEO: Won't be long before this is REAL! * Content Creators Claim YouTube Demonetizing Videos Without Chance for Appeal * VIDEO: War on Boys in all Schools * Zuckerberg-funded charity supports radical Islamic groups * 'Very ominous warning' from Turkish strongman just 'a preview' * VIDEO: Former Obama official admits: We spied on Trump